Diving Philippines: Diving at the most beautiful dive sites in the Philippines
We are a diving center in the Philippines in Anda on the island of Bohol. Our center specializes in dive safaris, dive vacations, dive trips and whale side trips. Experience with us a unique holiday season in the Philippines. Spend your holidays on fantastic beaches, unique dive sites and get to know the different islands.
Our dive shop for dives in Anda
on Bohol is open.
NEW since 2016: multi-day liveaboard to Leyte incl. whale sharks
At the request of many guests, we have taken another Safari Route 2016 in the program. Whale sharks, which is NOT comparable to the mass tourism in Oslob and Donsol.
Diving and Liveaboard in the Philippines
What do we offer:
Liveaboards to Bohol, Cabilao, Balicasag, Cebu, Negros, Siquijor ...


Liveaboard to South Leyte incl. whale sharks, Napantau Wall ...

Dive safari to the most beautiful dive sites in the Philippines

Whale shark tours , dolphins or diving tours


Island hopping according to your wishes

Diving Anda - Bohol and surroundings

Diving on Balicasag Island
We are looking forward to your visit, here with us in the Philippines,
the land of smiles.
The Philippines is no longer an insider tip, because in the last few years the diver world has talked about the Philippines having to offer the most diversified biodiversity in the world. Experience fully intact soft coral gardens that are unique in this world. The variety of fish species is a dream, which is only rarely seen in this world. It's no wonder, because no country in the world has set up so many protected areas! Almost 2,000 different species of fish have been registered, and the huge hard and soft coral gardens, with a variety of nearly 800 species, complete these fantastic underwater landscapes in the Philippines. Thus, the Philippines offer the most species-rich underwater landscape in the world!
Whether beginner or professional, for every diver there is a very large number of different dive sites. Whether macro, whale sharks, turtles or the well-known big Jack fish swarms. The Dive Main Center are the Visayas that form the mid-range of the Philippines.
Diving in the Philippines with liveaboard
If you want to experience more than just "a spot" in the Philippines, then Bernd's Liveaboard,s are the place for you. Join us on a multi-day dive safari (also ideal for non-divers) and experience in doing so u. a. Bohol Island, Pamilacan Island, Snake Island, Balicasag Island, Sumilon Island, Santander, Cebu Island, Apo Island, Negros - Dauin, Cabilao Island or Leyte. So you get to know the diversity of the Philippines even better!
You would like to extend your Philippines vacation? No problem. We work together with different resorts on different islands. We are happy to make you an offer, or look under >special offers<, where we have already put together travel combinations.
Whether beginner or professional, there are countless possibilities for everyone. The water temperatures rarely fall below 25 degrees. The visibility varies from 15 to over 40 meters. Many diving areas are protected areas. The reefs cover an area of more than 34,000 km2 and the biodiversity of the underwater world exceeds many.
We have two liveaboards in the Philippines
Route Visayas

Liveaboard Visayas

Route Visaya

Liveaboard Leyte
Both safaris are very different. What the fantastic soft corals are on the Visaya Safari are the absolutely colorful hard corals in Leyte. In Apo Island, Visaya Safari, there is the most species-rich coral garden in the world and in Leyte one of the absolutely most beautiful steep walls in the world. On Balicasag, Visaya Safari, your diver's heart will delight with the game of large schools of jack fish. On the other hand, your diver's heart will increase when you can experience the whale sharks up close in Leyte.

As you can see, both safaris not only have highlights for the Philippines, but also absolutely world-class diving areas.
Whale sharks Philippines:
Experience the whale sharks in Leyte up close. Do you want to snorkel with whale sharks or even dive with whale sharks in the Philippines? With Bernd's dive safaris you can fulfill this dream! In the months of January to June we regularly carry Liveaborad to Leyte. In close-up you can see the whale sharks with us. Only in South Leyte, far away from mass tourism, you can still experience the whale sharks in the wild. Make you dream come true. A whale shark for a diver is a MUST !!!

We organize all transfers so you can spend a totally relaxed dive vacation in the Philippines.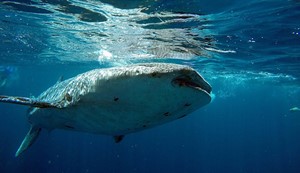 diving whale sharks philippines
Diving Bohol Island - Anda

Diving on Bohol Philippines, a paradise for divers! Regardless of the fantastic dive sites on our safaris, we offer another fantastic dive site on Bohol. These underwater landscapes and coral gardens with a steep wall over several kilometers, are considered by divers as an absolute insider tip. The direct house reef guarantees stress-free diving. This fantastic underwater fauna with the absolutely intact and colorful soft coral gardens makes this dive site so unique and offers great photo opportunities.
The area around Anda is not only the most beautiful area of Bohol, it is also the most varied diving area of Bohol. Diving in Anda of Bohol is diving like in paradise. Still, completely spared from mass tourism, an almost 14 km long reef stretches around the Anda peninsula. 29 fantastic and very varied dive sites await every diver. Dive into a unique colorfulness of coral gardens, which are not to be found anywhere else in the world. Or enjoy sightings of 20, 30, 40 sea turtles during a dive, because the number of turtles has increased enormously. In former times Turtle Beach was guarded so that the turtles could hatch undisturbed. Today the locals have understood that the turtles have to be protected, because it creates jobs.
Diving Philippines in Anda Bohol Island
But diving in Anda - Bohol offers much more

Steep wall divers, macro divers, night divers and drift divers can also find what they are looking for here. The drop-offs have depths from 20 to 40 m. Many divers also call the walls the reef of the 1000 snails. The variety of species in the underwater landscape is enormous. Big bullhead mackerels, shoals of jack fish, Spanish dancer, blue-ring octopus, froggis, eagle rays, mandarin fish sea snakes, pygmy seahorses, seahorses or harlequin fish are just a few examples.
All information about diving in Anda on Bohol can be found HERE.
Diving Balicasag Island
Of the dive sites around the island of Bohol, the top dive site is the island of Balicasag. The dive sites are among the most beautiful and diversified dive sites in the world. Especially well known are many turtles and the big jackfish swarms.
But also deep-diver, macro-divers or divers, who like to dive on steep walls, can fulfill their wishes there. Diving areas usually have excellent distances up to 40 m. A detailed description of all dive sites can be found here:
Another offshore island of Bohol is Cabilao Island. A real fantastic macro diving area. Exelente Visibility let every underwater photographer enjoy. The frogfish are football-sized, many pipefish, seahorses and fantastic corals make the diver's heart beat faster. With a bit of luck, you can also discover the Kobia fish. With appropriate flow, other larger fish species can be discovered. Barracuda, buffalo heads and sharks.
Another big highlight are the sharks at Sumilon Island. At Shark Point we have guaranteed white tip and black tip reef sharks. Sometimes we also have sightings of Thresher Sharks and Tiger Sharks.
And on Apo Island you must necessarily dive. The diving area has the most diverse coral garden in the world. No coral garden in the world can boast this different number of corals! In the north and east of the island lovers of drift dives enjoy. Current means big fish and many shoals of fish. Large barracudas, almost 2 m thick-headed mackerels, large sea snakes, jackfish swarms, sometimes mantas, many turtles can admire divers there.
And of course you must not forget the diving area in Napantau. On our Liveaboard Leyte are not only the whale sharks the absolute highlight. Diving on the two walls of Napantau is a dream. The cliffs are the most beautiful cliffs in Asia and one of the best in the world. Again and again the guests appear and say: ,,Wow, that was really nice. We have never seen that before." The reef roof often has "poor visibility" due to so much fish. Huge shoals of fish can be discovered on the reef top. The walls Napantau south and Napantau east have a depth of up to 90 m. Big colorful gorgions adorn the wall. On the reef roof more often sharks are to be found, but also large thick-headed mackerels. Due to the different currents also flow divers can enjoy and were discovered more often deep sea animals.
ALL THESE AMAZING DIVING AREAS AND MUCH MORE EXPERIENCE
DIVING UF OUR LIVEBOARDS