Here are some dive site descriptions during the dive safari VISAYAS
Pamilacan Island
Literally transla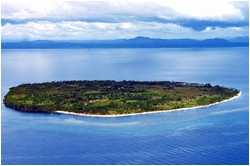 ted as' Mantas' resting place 'is a small but fine offshore island of Bohol. An island to dream, where you can refresh body and soul and just relax. On the island is a steep wall with a depth of up to 40 m and a fantastic coral garden on the reef top. With a little luck, you can also spot mantas, dolphins and whale sharks.
Snake Island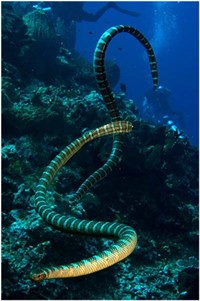 snake island bohol philippines
Approximately Snake Island is 30 minutes from Panglao Island. Snake Island is an underwater plateau. This plateau was not named "Snake Island" for nothing. Here it is possible to observe a variety of water snakes. The plateau lies at a depth of 5-10 m. Again, there is usually weak to strong current, so also one-way is dipped. We drift over the plateau and then dive to a depth of 25 m in the flow shadow of the plateau. Most of the sea snakes are there. A unique experience awaits you! Sea snakes are much more poisonous than the most poisonous land snakes, but completely harmless to divers.
Balicasag Island
Balicasag Isla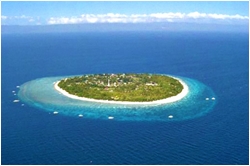 nd is administered by the Philippine military. That's why there was never any dynamite fish in there! The 6 dive sites around Balicasag Island are also considered one of the most beautiful and diversified dive sites in the world.
Balicasag is known for its large jack fish swarms and the large number of sea turtles. Even snorkelers can experience this fascination, because the depths in these areas is very shallow. Often, snorkelers or guests who have stayed aboard report spotting 30 - 40 turtles on the water surface. The turtles are often on the reef roof which is partially overgrown with grass and eat enough. Often the divers lie for a few minutes and watch the fantastic animals graze!
Particularly well-known is the dive site Black Forest because of its large swarms of Jack fish, tuna and Barakudas. It is also a paradise for turtles and froggis, which are very common here. Because of the variety of hard and soft corals, the reef process, fish species, large shoals of fish, turtles, etc., this dive site is probably one of the most diverse and spectacular dive sites in the world.
At Divers Heaven you will often find spectacular species such as buffalo heads, monkfish, napoleons, scorpionfish, stonefish, seacobras, nudibranchs, lionfish, triggerfish and angelfish. The turtles stay here mainly in shallow water (6m), so also ideal for snorkelers!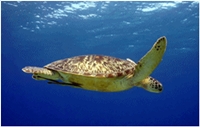 diving balicasag island turtle
Turtle Point is a steep wall with many smaller indentations. In contrast to the Black Forest and Divers Haven, where the Turtles often lie on the reef roof and graze, the Turtles often stay here in the indentations.
Ricos Wall, also called "Deep Diver" by the locals, is a steep wall up to 60 meters. The locals call him so, because especially Europeans like to do deep dives here. A fantastic underwater landscape awaits you here, because this wall is considered one of the best in the world!
The dive site Cathedral was therefore named because the steep wall has many indentations and smaller caves. The cathedral is really divine. A dream on an underwater landscape! Between the dive site Cathedral and Drop Off you also often meet big jack fish swarms, which are often at a depth of between 20 and 30 m.
The dive site Royal Garden begins on the reef roof, where also often Turtles graze. At the reef edge fantastic hard and soft corals extend. The wall begins with a slope of about 45 degrees and a depth of about 30 m, which then later goes to 90 degrees with a depth of up to 50 m. Also an ideal place for frogfish.
The dive sites are very varied and from beginner to professional. Dreamlike coral gardens, steep walls up to 60 m or even lovers of current diving offers Balicasag Iceland. The biodiversity is fantastic and the large number of all imaginable fish species in Asia also attract different reef sharks. But sometimes there are sightings of whale sharks, eagle rays or mantas.
Virgin Island - Pungtud Wall
Just 20 minutes from Balicasag Island is Virgin Island. To the left of Virgin stretches almost 2 km the beautiful dive area Pungtud Wall. As the name implies, over the entire length a steep wall with depths of up to 40 m stretches. Especially beautiful is the still intact and colorful hard coral garden on the reef top. A change with coral blocks, grass and with very clear vision, it puts a diver in an aquarium.
Deep diver´s will b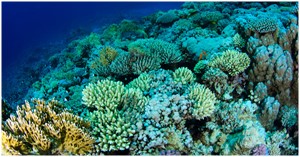 e thrilled at depths of around 50 meters. 3-5 m high gorgonians transform the underwater landscape into a forest.
Napaling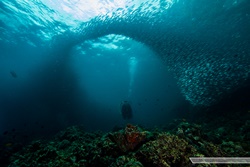 shoals of sardines philippines
The main attraction of Napaling are the large sardine swarms. It is often a huge spectacle when barracudas and other larger fish hunt the sardines.
Duljo Point
Duljo Point is located on the southwestern tip of Panglao. The diving area also has a fantastic wall of depths up to 55 m. As there is usually more current, large barracuda, eagle rays and jack fish swarms are more often encountered. Also, sightings of hammerhead sharks had already occurred.

Sumilon Island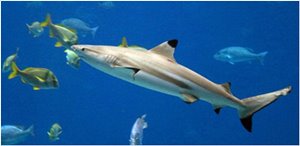 Sumilon Island is located on the southern tip of Cebu. The area around Sumilon Island is the FIRST Marine Sanctuary of the Philippines. Sumilon usually has excellent visibility. Shark Point offers u. a. White and black tip reef sharks, tunas, mackerels and turtles.
... sometimes thresher sharks, eagle rays, manta rays and whale sharks.

Cabilao Island
Cabilao Island is also a dream diving paradise which you should definitely dive. The most popular dive sites are located west and south of the island. In particular, the dive sites Lighthouse, View Point, Fallen Tree, Gorgonia Wall and South Point are real treat for every diver.
Lighthouse
The Lighthouse is a well-known place for encounters of a special kind. This habitat - a mixture of sand, seagrass and coral blocks - has already inspired many divers and photographers. A unique place for small and microorganisms: seagrass pipefish, filament devil fish, stonefish, frogfish, sponge crabs and seahorses ... Especially the very large frogfish make the diving ore beat faster.

South Point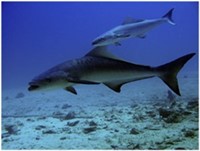 Impressive wall with some overhangs and small caves at a depth of about 30 meters. An ideal dive site with a little luck to sight spiny and eagle rays as well as cobia.
Gorgonia Wall
A wall covered with large gorgonians, hard and soft corals, which otherwise hardly appears in the Visayas. There is no lack of biodiversity: damselfish, sea snakes, scorpion fish, lionfish, leaf fish and dwarf seahorses, to name just a few examples. View Point The plateau is located on the northwestern tip of the island and is covered with broccoli corals and sponges. If you take your time and have an experienced eye, you can discover the dwarf seahorses at this point.
View Point
The plateau is located on the northwestern tip of the island and is covered with corals and sponges. If you take your time and have an experienced eye, you can discover the dwarf seahorses at this point. The View Point is also an ideal place to visit the schools of barracudas, tunas and turtles.
Dauin - Insel Negros
Dauin enjoys great popularity. A dream especially for macro lovers. The biodiversity is very big. From nudibranchs, scorpionfish, leaf fish, pipefish, sepia, batfish, turtles, frogfish, seahorses, mackerel, octopus, ghost pipefish, harlekin fish, and harlekin crabs, moray eels, and more.