Blue Star Dive Resort with house reef on Bohol - Anda
The island of Bohol, an island almost untouched by tourism (except Alona Beach on the Panglao Peninsula), gives the visitor the feeling of being immersed in a new world where time has stood still. Bohol is within the Visayas. The island is known for its gorgeous landscapes, waterfalls, the Chocolate Hills, Lobock River and the world's smallest monkey, the Tarsiers. Located near the beautiful, friendly and peaceful village of Anda, is one of the finest bohol resorts that Blue Star Dive Resort. Your choice to escape from your daily stress, to dive on Bohol and to relax in the 2.3 hectare resort with (only) 10 rooms. Stay away from crowded beaches and enjoy the tranquility of your private balcony with ocean views. Or enjoy a cocktail in one of the tranquil chill areas or our ocean view hot tub and explore the 30 dive sites. The house reef "Paradise Garden" is considered the most beautiful reef in the Anda area. The resort offers a combination of Pool View and Ocean View bungalows, each with a private balcony, minibar and coffee / tea maker.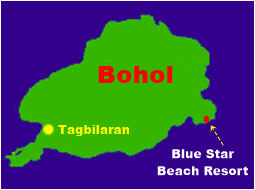 The resort is one of our partners for our dive safaris and dive tours so we can show you the diversity of the Philippines! The Resort is located in the east of the island of Bohol in Anda, far from tourism and is located on the sea. In front of the resort is directly one of the most beautiful coral gardens in the world. The offshore house reef covers almost 14 km.
---
Image Gallery Resort
Diving Bohol - Blue Star Dive Resort
This fantastic dive site offers 30 fantastic dive sites and you DIVING almost alone, because this beautiful diving area is still completely spared the mass tourism! You dive here like in paradise. Nearly 450 coral species and over 800 fish species have been registered here. Whether it's steep wall diving, drift diving, or gliding slowly at just 8m depth over the riotous colors of the giant soft coral garden, or the large variety of snails, jack fish swarms, turtles (guaranteed), froggies, sea cobras, barracudas, tunas or Spanish dancers. All this offers this fantastic diving area and much more. Often, this reef is also visited by whale sharks!
Image Gallery Diving