INFORMATION LIVEABOARD VISAYAS
Dive safari through the Visayas of the Philippines - Liveaboard
A liveaboard is the most ideal dive option, in a short time to dive many different dive sites. The dive sites in the Philippines are among the most beautiful and diverse in the world.
Such a biodiversity of the underwater world can show no country in the world! The most beautiful dive sites are located in the central part of the Philippines, the Visayas. Especially with the main islands Bohol, Cebu, Negros, Leyte and its many small offshore islands.
For many years we carry out the very popular diving safari 'Visyas'. Over time, we have changed and expanded a lot to be able to visit even more dive sites in the Visyas on this liveaboard. The diving areas are very different in their underwater world and so extensive that we can inspire every diver's heart from beginner to professional.
Some diving areas are often among the TOP TENs in the world. Apo Island with its soft and hard coral gardens that are nowhere else in the world. No coral garden in the world can boast as many coral species as on Apo Island. Apo is also a diving paradise for drift dives and larger fish species.
Balicasag Island is another absolute highlight. According to the last count, there are 124 turtles on this small island, which you can observe at only 8 m depth. But the diving friends for big fish get their money. For many years, the shark disappeared on Sumilon Island. For a long time, the sharks are back!

For some time now we have also included the diving paradise Cabilao Island. Cabilao Island was for many years, and still today, an absolute insider tip for divers. You have to experience Cabilao! During the crossing we make a stopover at the diving area Napaling to dive there with the big sardine swarms.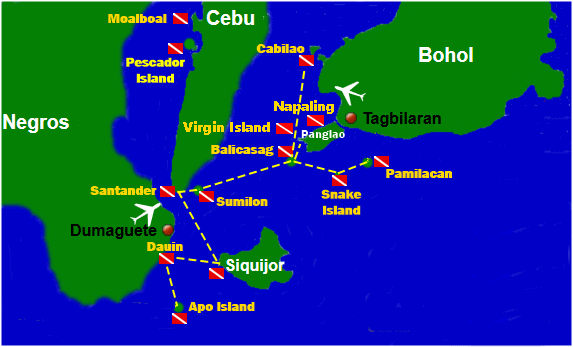 We start the diving safaris from Bohol (Alona Beach / Panglao), or from Dauin on the island of Negros.
Number of Participants
Minimum number of participants: 4 people
Maximum number of participants: 8 persons
Minimum age: 12 years (parent required!)
Without parents no participation under 18 years!
Additional Transfers - Dive Safari
We are happy to organize the transfers to the dive safari - starting point, or from the final destination to the respective resort. (Transfer costs are not included in the safari costs!)
Food / drinks:
Eat: full board
Beverages: Water, coffee, tea and soft drinks included.
---
Here are descriptions of some dive sites during this dive safari. Click here: