Do you want to dive, swim or snorkeling with whale sharks?
Dive safari to South Leyte, away from mass tourism.
Diving tourism in the Philippines is increasing year by year. Because of its geographical location, however, Leyte is still completely spared mass tourism today.
We used to do many day trips to Leyte so that our guests could SNORKELING or DIVING with the giants of the sea, the whale sharks. At the request of our guests, we then later added the 6-day liveaboard to Leyte with the diving program.
A complete success, because our guests are enthusiastic about south Leyte.
Whale sharks Philippines at Leyte
whale sharks philippines
The whale shark, a dream of every diver! From January to May is whale sharks season. The bays in which the giants of the oceans mostly live have been declared a protected area for many years. South Leyte is the ONLY area in the Philippines, where you can still experience these giants in the sea away from mass tourism. Fulfill this dream!
Dive Safari Philippines - Route Leyte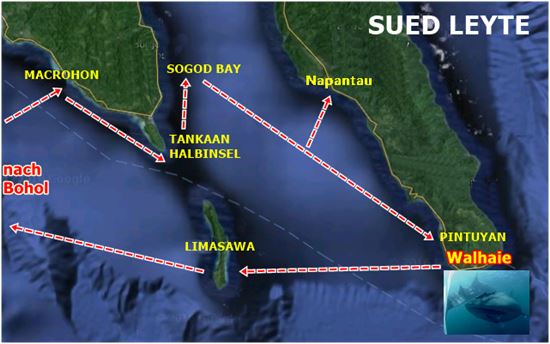 Number of Participants
Minimum number of participants: 4 people
Maximum number of participants: 8 persons
Minimum age: 12 years (parent required!)
Without parents no participation under 18 years!
Additional Transfers - Dive Safari
We are happy to organize the transfers to the dive safari - starting point, or from the final destination to the respective resort. (Transfer costs are not included in the safari costs!)
Food / drinks:
Eat: full board
Beverages: Water, coffee, tea and soft drinks included.
Liveaboard Philippines - Leyte:

We start this liveaboard at 7 o'clock from East Bohol near Anda. Usually from Blue Star Dive Resort. The crossing to Leyte takes only 3 - 3 1/2 hours. We recommend, if no travel combination was booked through us, to book at least one overnight stay in the area of Anda, so that a smooth departure to Leyte can be made.
---
Here are descriptions of some dive sites during this dive safari. Click here:
Travel combination with the liveaboard (whale sharks) and resort in the Philippines.
Possible travel combination:
Transfer Ferry Port / Tagbilaran Airport - Blue Star Dive Resort
2 nights at the Blue Star Dive Resort incl. Breakfast in the Ocean View Bungalow
6-day whale shark safari to South Leyte (including diving and full board)
6 nights at the Blue Star Dive Resort incl. Breakfast in the Ocean View Bungalow
Transfer Blue Star Dive Resort - Ferry Terminal / Tagbilaran Airport
Price p. P. 1.595 Euro (double occupancy)
Whale Shark, the biggest fish in the world

The whale shark is not a mixture of whale and shark, but rather a shark the size of a whale. Whale sharks are also the largest fish in the world. The reproduction of whale sharks is also extraordinary: the young grow up in eggs but still hatch in the womb. A single female can carry more than 300 embryos in her belly at the same time and control the time of birth.
Whale sharks were first scientifically described in 1828. They are still a great mystery to researchers. Even the data on size, life span and weight vary widely. The knowledge about origin, behaviour and travel routes is even more pitiful. But it is estimated that the animals can grow up to 20 metres long, weigh more than 34 tonnes and can live to be over 100 years old. The females are on average larger and heavier than the males.

In recent years, whale sharks have become known mainly for their popularity with divers and snorkelers. This is because the giants are particularly peaceful and not at all dangerous for humans. Their shape is also fascinating: the sharks have a strikingly coloured blue-grey back, which is covered with white spots and stripes, a light-coloured belly and a 1.5 metre wide, blunt mouth. Through this large mouth, which extends over the entire width of the head, the animals allow 6,000 litres of water per hour to flow through. The gills filter plankton, algae, krill and other microorganisms. Only two other shark species filter mini-food from the sea in this way: the basking shark (Cetorhinus maximus) and the giantmouth shark (Megachasma pelagios).

Because of this way of feeding, whale sharks, unlike most sharks, glide slowly and comfortably through the water. Most sharks swim by moving their tail fins back and forth. The whale shark, on the other hand, tilts its entire body alternately from left to right and from right to left. It can reach a maximum speed of five kilometers per hour.