Liveboard Philippines - Dive Sites Leyte
During the Liveboard Philippines Tour to Leyte we drive to many and very varied dive sites. Here you will find a small selection of dive sites. You will be amazed by this liveaboard, as the Wall Napantau is considered one of the most beautiful in the world.
Some descriptions of the most beautiful dive sites of Leyte
TANKAAN PENINSULA
07: Coral Garden
Max. Depth 28 m. The name is program. Beautiful coral garden that even houses leather coral (elephant ears) and other rare species. Large fish wealth, pure aquarium.
08: Heavens Gate
Max. Depth 28 m. The name of this dive, which incidentally was not invented by us, copes with it. Everything is possible here. Light to strong currents, turtles and much more. We do not want to elaborate that the reef itself is undamaged. Must see!
09: Tankaan Point
Max. Depth 40m. Partial strong current. Encounters with big fish, marine mammals and turtles are not uncommon.
SOGOD BAY
10 und 11: Medicare North and South
Max. Depth 35m. Approximately 30 degree sloping slope. Especially in the south extremely rich in wildlife with many turtles and intact in both places intact coral world with often surprises such as frogfish, moray eels and mantis shrimp.
12: Burgos Pier
Max. Depth 10m. A fantastic day and night dive site for seahorses, froggies, crabs, shrimps, sky gazers, crocodile fish, snails, leaffish.

13: Mark`s Climax
Max. Depth over 40m. Diving spot that has everything to offer. Starting with small nudibranchs in the wall over swarms of tuna fish and mackerel in open water to eagle rays, Physilieren, grouper, grouper, sweet lips and many other things.
14: Bunga Point
Max. Depth over 40m. Unique step-falling reef, at the center of which is a rock formation, always surrounded by swarms. Fantastic dive site where also encounters of the 3rd kind are possible.
18: NAPANTAU(probably the most beautiful wall of Asia)
According to Asian Diver magazine - in Europe, the magazine "underwater and diving" 'Napantau was rated as the most beautiful wall of Southeast Asia. You are welcome to follow the reviews of Napantau on the Internet. We do not shy away from any comparison, because these two steep walls are unparalleled. Napantau contains 2 fantastic steep walls with depths up to 80 m. The view is often 'limited' by various large shoals of fish. The corals are fantastic, sharks, thick-headed mackerels up to almost 2 m, tunas, great barracuda, sometimes mantas and others. make the diver's heart beat faster. Also whale sharks are spotted here regularly. A dream place nobody should miss.

Often we had divers who said after the dive: "No matter whale sharks, here we want to dive again tomorrow." Take a look at this short video. That's just a small part of the reef roof!

LIMASAWA ISLAND
20: Bus Stop
Max. Depth 40m. North-facing hillside, with 40-80 degrees sloping slope. Depending on the tides, from bathtub to very strong and changing currents. Swarm and Großfisch sightings no rarity. In low flow, species-rich reef with rarity value.
21: Adrians Cove
Max. Depth 40m. Partial steep wall with many cavernous indentations that offer hiding places for rare species. Another name for this dive site is in the rest of Jurassic Park, as all Critters occur here.
22: Günters Wall
Max. Depth +++. A seemingly infinitely vertical falling steep wall with wonderful soft coral growth. A look into the blue not only allows the sighting of shoals of fish, but with a little luck, the encounter with hammerhead sharks. One of our topspots, which nevertheless - depending on the depth - is also suitable for beginners.
23: Bujong Shoal
Max. Depth +++. A slope descending first at 60 degrees, which also drops vertically from 30m depth. Place where everything is possible. Ideal for deep-diver.
24: Bonnies Place
Max. Depth 35 m. On the west side of the island sloping slope with many turtles and sea snakes, occasionally encounters with whale sharks.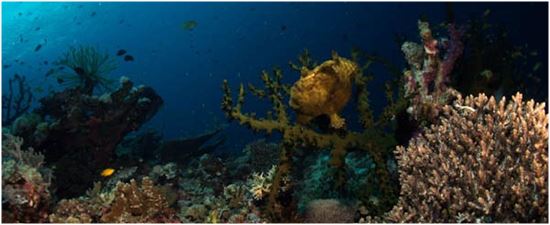 PINTUYAN - Whale shark area
The area around Pintuyan is the main area of whale sharks. But regardless of Pintuyan, there are also other dive sites in Leyte where you can meet the giants of the seas.